Open Data Day 2015 - The MSBM Experience
In celebration of Open Data Day on February 21, 2015, citizens in cities around the world gather to write applications, liberate data, create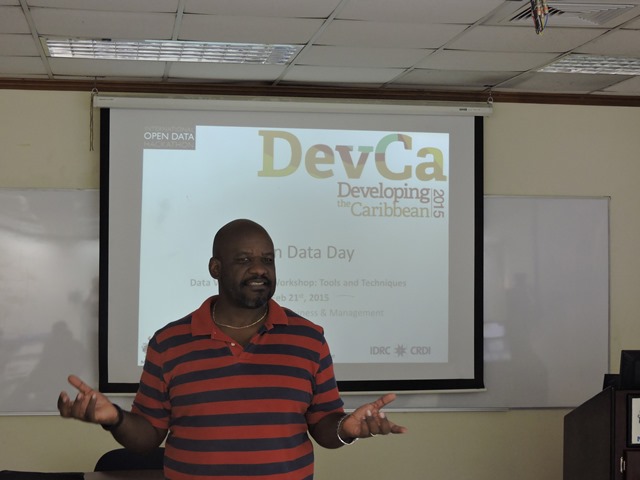 visualizations and publish analyses using open public data to show support for and encourage the adoption of open data policies by the world's local, regional and national governments.
As part of this global event, Mona School of Business and Management (MSBM) hosted the only Caribbean event out of 125 events in 65 countries, carried out by students at the Mona Campus of the University of the West Indies.
The day started with a 1-hr hands-on workshop exposing students to data extraction and visualization tools and techniques, including Tableau, Open spending, and other online resources available at the School of Data (http://schoolofdata.org/). The workshop was delivered by Director of MSBM's Centre of Excellence for IT-enabled Innovation, Dr. Maurice McNaughton.
After the initial workshop, teams of students then chose to work on one of three data visualization challenges: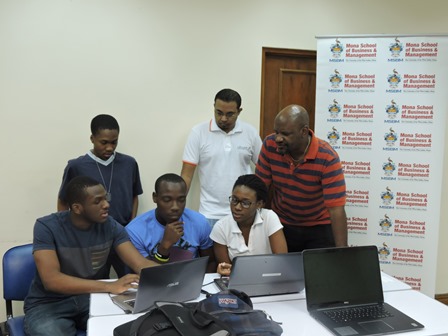 One team explored datra made available from Development Alert!, an online tool for increasing transparency and public engagement on projects that impact the environment and public health, Developed by the Jamaica Environment Trust (JET), the World Resources Institute (WRI) and the Access Initiative, the online, interactive website allows the public to submit reports on projects they are concerned about or track information about new and existing high-impact developments. The data captured on Development Alert! was made available as open data through a ReST API, and the students explored different visualization techniques to make the data more accessible, visually appealing and engaging for the average citizen.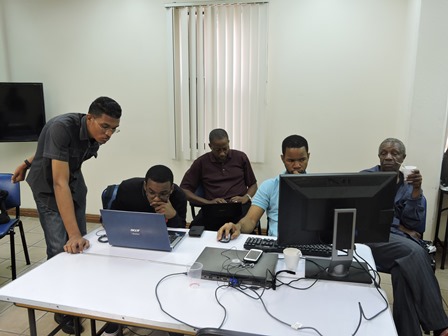 A second team focussed on Jamaica's national budget. Jamaica's current 2015-16 Budget debates are being intensely scrutinized and discussed. An important aspect of this debate is making budget information available and accessible to Civil Society (NGOs, journalists, citizens, etc.) in such a way that it provides a basis for discussions, participation and provides mechanisms for greater media / civil society engagement in the entire budget process. The team was provided with the 2014/15 GOJ Budget data from the Ministry of Finance and explored ways of creating more visually appealing and interesting views of the budget. The team compared use of the Open spending platform with Tableau for ease and flexibility of budget vizualization.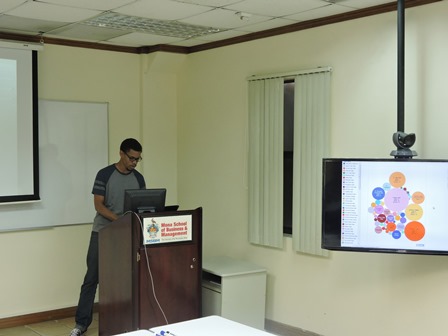 The 3rd team focussed on the interesting challenge of vizualizing high school track & field data. Jamaica's world acclaimed Boys & Girls Championships is the culmination of an intense season of development meets that take place between Jan - March each year. Trackies (Jamaican Track & Field Fanatics) are constantly dissecting, discussing and debating athlete and school performances throughout the season, in an effort to predict the likely winners and break-out performances at the flagship Boys & Girls Championships.
This team used data on athlete performances from Champs 2014 together with data from the various development meets, to create a track & field performance dashboard that provides performance metrics and visualizations for schools and individual athletes.
This dashboard was actually published
and made available to the local Track & Field fraternity and We expect that, with further development, it will contribute to the ongoing excitement of Jamaica's premier sport.
At the end of the day, each of the Student teams presented their own impressions of thier vizualization challenge, techniques learned and outputs produced, in front of a small but appreciative audience. Overall, fuelled with Pizza, Coca-Cola and Cofee, Open Data Day at MSBM, turned out to be a rewarding and learning activity for all involved.